Japanese Suzuki, (Manuals page) apparently, is actively working on a new version of the popular powerful motorcycle Suzuki Hayabusa.
In the line of the brand for 2018, with the exception of the model SV650X, in fact, there are no new products - only  color solutions for old motorcycles. Nevertheless, engineers in Japan are working hard to ensure that, ideally, in the next year's lineup, radical news has appeared that can attract new public to the motorcycles of the brand.
The motorcycle has not been updated for a long time and therefore it is far behind its competitors, to the point that even sales have been stopped in Europe. A new version of the CPR may be the moment that will help attract additional attention to the model.
As follows from the patent drawings that have become available, the semi-automatic gearshift system will be implemented as an additional mechanism installed from the outside. The mechanism will use an external sensor, working in tandem with a servo-drive, including the clutch. Unlike the box type DCT on the Honda, this system will be purely external and will not require making any changes to the internal structure of the engine. This, in turn, means that it can appear as an option on other new models. And also, probably, used for older devices.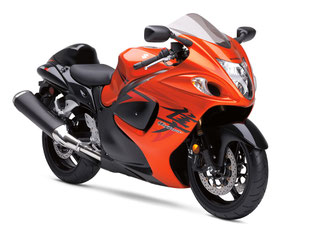 Also, based on the presented drawings, a number of experts make the bold conclusion that the box will be able to work not only in semi- but also in fully automatic mode.
The new checkpoint is not the only update that appears to be expected from the updated Hayabusa. Probably, the engine will change too. It is assumed that its volume will grow to 1,400 cps, and it will probably be turbocharged. You can expect a power of more than 200 hp. already in the stock version - Suzuki will try to break away from rivals.
Also, Hayabusa should receive a more modern electronic stuffing, including a ride-by-wire damper system, several ride modes, traction control, anti-wheelie and ABS cornering (so called cornering ABS). Of course, we should expect the appearance and cruise control, a new device and a system for connecting with smartphones.
Waiting for changes in design - so that he was no longer such a frank reference to 1990, as now. With regard to the time frame, then, according to experts, the new Suzuki Hayabusa, most likely, will be presented at the Tokyo Salon in 2019, and from 2020 will go on sale. And will already comply with the eco-standard "Euro-5".